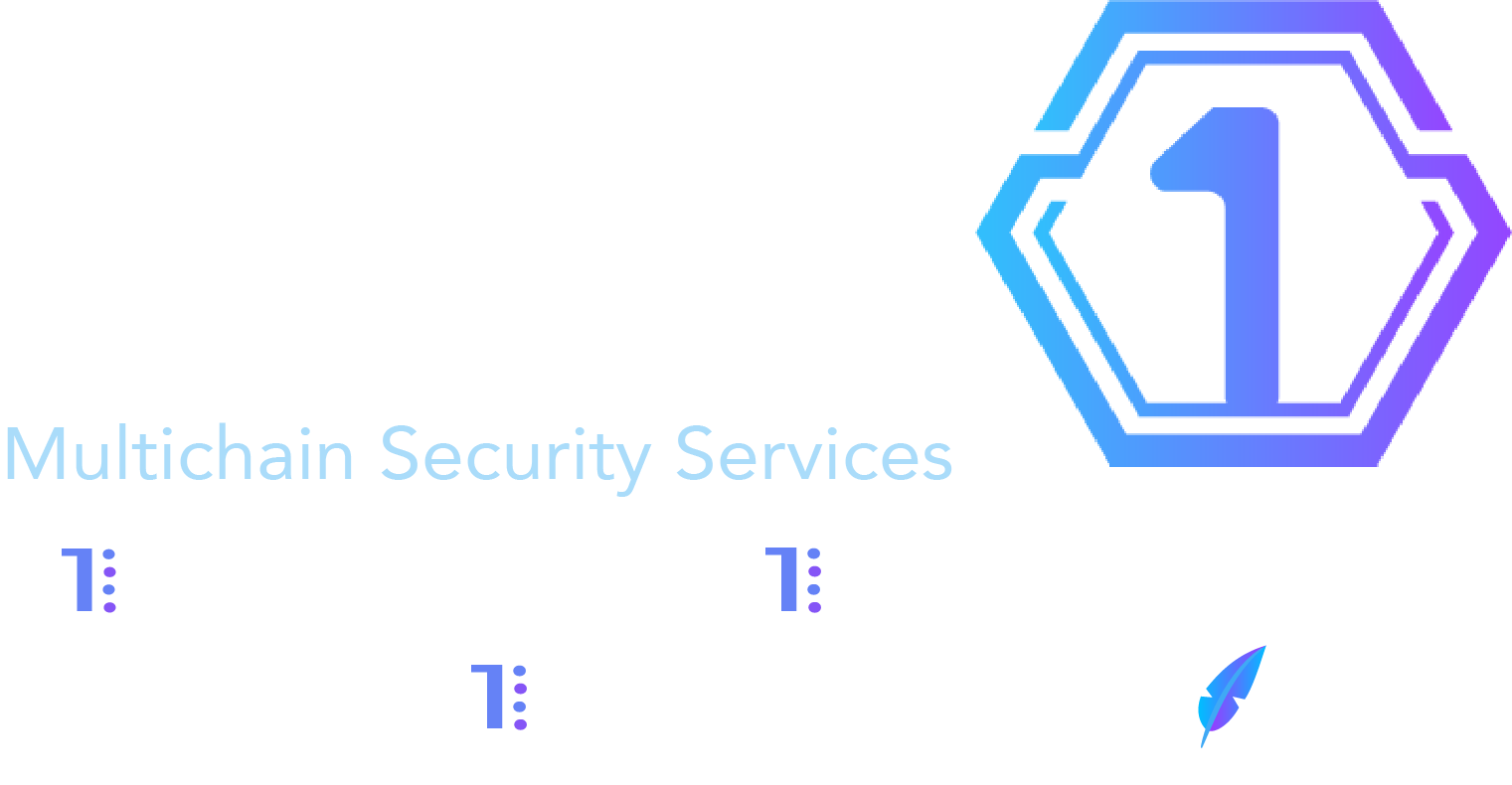 Securing your
Crypto Assets

with Convenience
A1: Wallet
Manage your various crypto investments safely, simply, and securely with A1:Wallet. Make payments to friends or connect A1:Wallet to your favorite DeFi platform and do what you always do. Although our multi-chain wallet can integrate with your next NFT or metaverse projects with ease, our wallet shines when used in conjunction with our suite of blockchain security services.
Locker
Handling hundreds of NFTs from your inventory is a breeze and transactions limitations are non-existent through our lockers. Only accessible with our A1:Wallet, our lockers offer an extra layer of protection from bad actors that are looking to steal your passwords or private keys. We enable this by minting an A1:Key, which is an NFT that acts as the key for your locker. Private key phishing attempts or keyloggers don't stand a chance with our locker and A1:Key combination
Peregrine: Risk Mitigation
Protect your business from fraudulent activity, strengthen your AML program, and make secure transactions with confidence by simply connecting your dApp with our Peregrine API Key. The API works to mitigate risks of theft by performing transaction forensics before it is recorded and settled on-chain. Suspicious transactions are immediately detected and prevented through the identification of known fraudulent addresses.

A1: Wallet
User Case
Connect to your favorite yield farm, staking pool, or DEX to safely and securely send, receive, stake, store, or vote right from within our wallet. A1:Wallet is not just your ordinary Cardano wallet though. Along with multi-chain functionality, our wallet enables the use of our lockers and can also be integrated seamlessly with our risk mitigation and improved KYC services.
Research
In December 2020, only 190,000 Cardano wallets existed. In January 2022 there were over 2.6 million, representing over a 1200% surge in Cardano wallets in a year and this number continues to climb daily. Out of all of these wallets, only A1:Wallet has fraudulent address forensics capability and locker management.

Locker
User Case
Each A1:Key is unique for every locker created which enables only its holder access to the locker contents just like a physical key to a storage locker. Store all of your metaverse assets and cryptocurrencies in this locker and when selling in bulk, simply sell your A1:Key and that's it! With our lockers, you won't be wasting time listing individual items on the marketplace or making transactions on every asset type. Additionally, your assets are fully protected because transactions cannot happen unless the A1:Key is present and a 2FA confirmation is made.
Research
Almost $95 million in NFT sales flowed through the market in 2020. By the end of 2021, nearly $25 billion in sales volume were made. Unsurprisingly, these figures are expected to grow to more than $82 billion by 2026. On the macro scale, the NFT market is thriving alongside the cryptocurrency market. Single asset transactions either by P2P or on marketplaces worked well before, but the market is growing rapidly and the need to quickly send and receive in bulk is rising.
Peregrine: Risk Mitigation
User Case
Developers and businesses can easily identify high-risk addresses immediately with our Peregrine API. Our transaction forensics program enables you to not only monitor and track the initial fraudulent addresses but also all of the subsequent transactions made to various addresses stemming from the initial source. High-risk addresses are flagged for your review so you can make informed decisions on transactions. Simply sign in to our Partner Portal dashboard so you can review reports of fraudulent addresses, view correlating risk scores, and recover stolen assets.
Research
As the popularity of DeFi protocols increased, so did cryptocurrency-related theft. In 2020, around 30% of all cryptocurrencies within this space were stolen and by the end of 2021, this grew to over 72%. Security breaches, exploits, rug-pulls, keyloggers, and phishing are tools of the underworld trade and most users are not aware of these risks. On-demand transaction forensics like our Peregrine API adds an extra layer of security to dApps and enables businesses to investigate lost funds from theft.